The 2022 Senior Masters Tournament will be held March 12 & 13 at Thunderbowl Lanes
2021 Michigan State Senior Masters Tournament was held at Royal Scot Golf & Bowl, Lansing
Congratulations to our 2021 Senior Masters Champion - Jeff Austreng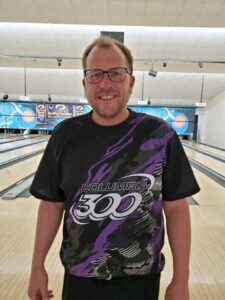 Jeff Austreng of Waterford won the 2021 Michigan State USBC Senior Masters tournament and the $1,750.00 prize by defeating Michael Lucente of Warren in the final match 452-427.
Austreng was the top qualifier with -a six-game set of 1478. He defeated Gary Duarard of Midland, 430-391 before he was sent to the Losers bracket by Dave Schumacher of Bloomfield Hills, 498-453. In the losers
bracket he defeated Gerald Johnson of Taylor 443-385, defending champ John Goormastic Jr. of Westland 443-385, and Schumacher 427-299 to return to the Winners bracket. In the first match against Lucente, Austreng was 65 pins down after the first game and he fought back to win 448-441, forcing another match.
Austreng is the only person to win the Michigan State Masters (2008, 2011) and Senior Masters tournaments.
Mike Lucente finished second earning $1,000.00. Lucente remained in the Winners bracket by defeating Goormastic 459-398, Dave Spohn of Lansing 437-424, Kirt Gundry of Lansing 422-390, before advancing to the Championship match by defeating Schumacher 438-415.
Schumacher finished third for $500.00 He defeated Michael Calvin of Warren 422- 414, Dennis Montague of Portland 414-352, and Austreng 498-453 before getting sent to the Losers bracket by Lucente. Schumacher had one more match in which he was defeated by Austreng 443-388.
Defending champion John Goormastic Jr, finished fourth for $400.00 The field of 47 bowlers averaged 199 for the six games of qualifying.
The top 12 qualifiers averaged 223 during qualifying and 205.4 in match play.
The Michigan State USBC Senior Masters Tournament is a USBC certified event operated by the Michigan State USBC Bowling Association.
Entire Entry Fee was applied to the Prize Fund
| 1st | Jeff Austreng | Waterford | $1,750 |
| --- | --- | --- | --- |
| 2nd | Mike Lucente | Warren | $1,000 |
| 3rd | David Schumacher | Bloomfield Hills | $500 |
| 4th | John Goormastic Jr | Westland | $400 |
| 5th | Kirt Gundry | Lansing | $350 |
| 6th | Gerald Johnson | Taylor | $350 |
| 7th | Dennis Montague | Portland | $300 |
| 8th | Greg McCreadie | Midland | $300 |
| 9th | Larry Wilson | Detroit | $250 |
| 10th | Gary Duarard | Midland | $250 |
| 11th | Dave Spohn | Lansing | $250 |
| 12th | Michael Calvin | Warren | $250 |
| | | | |
| SS | Richard Wayne | Westland | $120 |
| SS | Jeff Suma Sr. | Clarkston | $120 |
| SS | Larry Walker | Garden City | $120 |
| SS | Mark Abraham | Lansing | $120 |