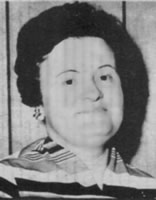 Helen, an enthusiastic bowler had her budding career cut short due to a knee injury. While bowling she maintained an average of 189 during the 1964/65; 1967/68 and 1970/71 seasons and carried an average in the high 170's and 180's until she had to throw in the towel in 1980. Her highest game was a 279 and highest series 689. 
Locally, she was a member of the Detroit W.B.A. Champion team in 1968 and again in 1969, and was All Events Champion in 1968. 
The LaMar Ideas Team, of which Helen was a member, won the State Championship in 1963 with a score of 2882. The same team, sponsored by Stan Long Pontiac, won again in 1968 with 2789 and in 1969 with 2672. That year, 1969, Helen was the All Events Champion with 1727. 
Helen participated in 26 WIBC Tournaments and, in 1967, placed 5th in the All Events to qualify for the FIQ Tournament held in Malmo, Sweden. She came through with flying colors, won the Gold Medal in All Events, Silver Medal for Doubles and Silver Medal in the Five-Woman event. She was World All Events Champion with a score of 4585, averaging 191 for 24 games.
Always wanting to do something for the lower average bowlers, Helen organized the Michigan 500 Club. Under her leadership as President, they have grown to 5500 members and are going into their tenth year. 
Although she cannot participate, Helen is an avid supporter of the game and its programs. She encourages other to participate and become involved. Helen is truly a "Star", not only of Yesteryear, but of the Present and Future.