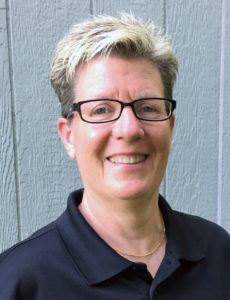 Kim has four Queens Titles to be proud of. In 1985 she won the Michigan Queens Tournament by maintaining a 225 average. Also that same year she won the Kalamazoo Queens. Then in 1992 and 1995 she won the Battle Creek Queens. She has bowled in 21 plus State Queens and placed 5th in 1986 and 3rd in 1987 and 1997. Maybe in a few years she can add the Michigan Senior Queens to her titles. 
Locally she has many honors. The first being she was the first lady in Battle Creek to roll a 300 game and 4 700 series in a season 748, 738, 712 and 703. She was a member of the first women's team to break the 3,000 mark with a 3130 that was 8th in the Nation. Kim had 279 – 695. In the Battle Creek City Tournament she was All-Events winner in 1984, 1989, 1990 and 2002, Singles 1997, Team 1984,1987,1990,1996 and 2002, Doubles 1994 and 1997 in Lansing. She was bowler of the year 1989-91, member of the All Star Team 1990-1996 and 2000-2002. Kim was inducted into the Battle Creek WBA Hall of Fame for Superior Performance in 2000.
Kim began the 2007-08 season with a bang by rolling her second career city league 300 game as part of a 722 series in the first night of league play and improved that a week later with a 290 – 746. Then in Oct she shot a 299. Shortly after that she injured her right hand and was unable to bowl for a few weeks. She had signed up for city tournament and didn't want to let her fellow bowlers down. Still uncomfortable from the injury she rolled a 677 in team and a 703 in doubles. So far the 800 series had eluded Kim but someday she will be able to claim it.
KIM CONGRATULATIONS AND WELCOME TO THE MICHIGAN STATE USBC WBA HALL OF FAME