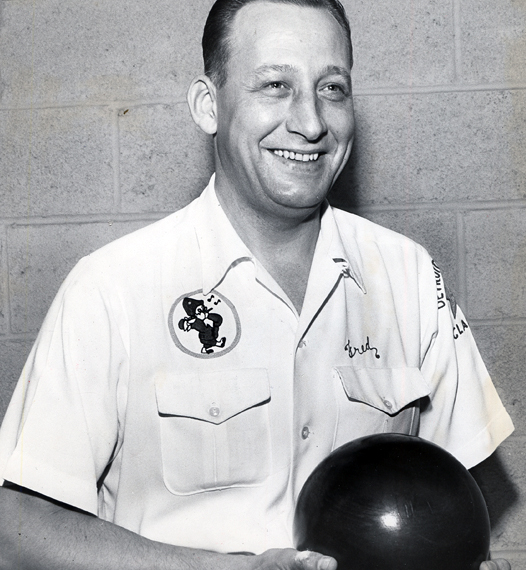 Fred was one of those rate athletes who let his actions speak louder than his words. He went to Detroit from Benton Harbor, in 1944 and soon won his way into the hearts of all bowling fans with his smooth delivery and unerring accuracy.
Fred won more USBC Open Championship eagles than any other bowler until fellow Hall of Famers Bill Lillard and Nelson Burton Jr. tied his mark (eight).
He and three other Hall of Fame members, Therm Gibson, Lou Sielaff and George Young, were the nucleus of the E&B/Pfeiffer team formed in 1944. They won three team titles and four Team All-Events titles (two of each as Pfeiffer Beer) between 1949-55, constantly battling the great Stroh's teams for the supremacy of Detroit and the nation.
Among Bujack's 14 other tournament championships were five more team titles in BPAA events.
He helped to give Detroit the finest representation possible in the major events throughout the country. It was his smooth delivery that made him one of the stars that brought fame to Detroit bowling and helped make it the "Bowling Capitol of the world".
He gained honors on his own by reaching the national all-star finals on four occasions and had a 201 average for 601 games in this stiffest of competition. He also had a lifetime average of 208 in the ABC Masters tournament.
For his outstanding performances, Fred was voted into the ABC Hall of Fame in 1967 and the Detroit Hall of Fame in 1973… Now joining the Michigan State BA Hall of Fame. (1998)
Fred was a quiet man but his outstanding ability on the lanes left a lasting memory with all who saw him in action. He truly belongs with the ALL TIME GREATS.