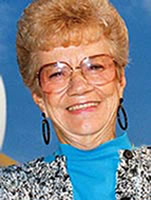 Mrs. Marion Ladewig of Grand Rapids, will receive her award for Superior Performance. 
Mrs. Ladewig attained her highest average a 204, in 1952-53 season, and a 202 average in 1954-55. Her highest series were 735 in 1952-53, and 733 in 1951-52. Highest game of 290 in 1962-63, and 288 in 1952-53. 
Marion won the MWBA State Tournament All Events title in 1950, 1951, 1952 and 1962. She won the WIBC All Events title in 1953, and 1955. The All Star Tournament eight times; World Invitational five times. 
Mrs. Ladewig was the first to be selected for the WIBC Hall Of Fame for Superior Performance in 1964. The Woman Bowler of the year nine times. 
Marion holds a title that many of us admire. A nationwide poll of publications named her the "Greatest Woman Bowler of All Time."