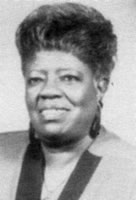 Although Lavolia is being recognized as a Star of Yesteryear, she is still active, bowling in the Royalettes Classic League and carrying an average of 176. 
High averages for ladies were rare when Lavolia carried a 196 during the 1971-72 season. The same year, she rolled a high series of 723. Her highest game was 290 in 1974-75. She also had a 289 during the 1960-61 season. 
Her first State title was won in 1966. With her partner, Mary Kilgore, they won the Doubles with 1226. She was a member of the Motown Records Team when they won the Championship in 1971, 1972 and again in 1978 with a high score of 3147. On a roll, she won the doubles, again with Mary Kilgore, in 1978 with a score of 1242. 
Locally, Lavolia was All Events Champion in 1972 with a score of 1778 and on the Champion Motown Team in 1977 and 1979. She was named to the No. 2 All City Team in 1973-74 and to the No. 1 Team in 1974-75.
Having retired from her job, she now devotes much of her time doing volunteer work at her church. 
We are proud to have Lavolia join the elite in the Michigan Women's Bowling Association Hall of Fame.