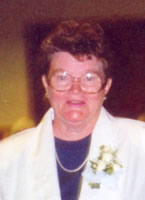 Joyce has been bowling for a great number of years, with the 70's and early 80's her best years, earning the most titles in that period. 
In the Michigan Women's State Tournament, she, with Fran Dykstra, won the Doubles in 1970 with a high score of 1288. 
Locally, she was a member of a Champion Team in 1974, 1979, 1982 and 1983, with scores of 2800, 2798, 2924 and 2795 which, at that time, were exceptional scores. She was also a Champion in the Actual Doubles five times, rolled 641 in 1967 and 660 in 1971 to win Actual Singles. Actual All Events did not elude her either. She won four titles with scores of 1819, 1758, 1752 and 1885. She was also the Local 600 Club Tournament Champion in 1979 and again in 1982. She was named to the All City Team four times. 
Her highest game is 298, missing the perfect score by just two pins. Those two lead bottomed pins – or so it seemed – would not tumble. 742 is her highest series and she carried a 200 average during the 1979-1980 season. 
The Michigan Women's Bowling Association welcomes another "Star of Yesteryear" into their Hall of Fame.