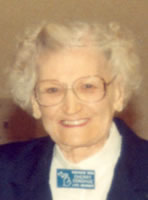 The Meritorious Award is designated for service to State and Local Associations and Naome "Cherry" Donohue is certainly deserving of this honor. 
Cherry was a great asset to the Michigan Women's Bowling Association. She designed the format and processed all the 600 and 700 applications for membership and served as a very able chairperson for 17 years. She also served on the Nominating Committee. 
She has been bowling for more than 45 years and was secretary/treasurer of the 600 League in Saginaw for 29 years. Became involved in local association activities, was a Director for ten years, serving on many committees. Moved up to Sgt-at-Arms for one year, then to 1st Vice-President for thirteen years and was President of the Saginaw Women's Bowling Association for two years. She was Director of Publicity for the Saginaw Women's Bowling Association, as well as for the Saginaw Bowling Hall of Fame. 
Saginaw recognized her many attributes and named her to their Hall of Fame in 1978. 
Having served very ably on the Saginaw Hall of Fame Committee, she is now a charter member. 
Another of her accomplishments was to successfully co-chair the Campaign to "Bowl to Strike Out Cystic Fibrosis." 
For her dedication, Naome deserves to be named to the Michigan Women's Bowling Association Hall of Fame for Meritorious Service.