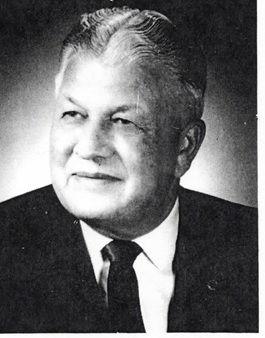 Ever since Irving C. Beehr was talked into taking his first administrative job, he was a leader. The young man who set pins for three cents a line in a two -lane house in his hometown of Capac, never dreamed he would one day become President of the American Bowling Congress.
Irv aspired to become a Bookkeeper and he worked in a small office in Capac until moving to Jackson to work for Consumers Power. He moved to Battle Creek after his marriage in 1930 and bowled with the Consumers Company league which traveled and rolled match games in Ann Arbor and Detroit against the old Detroit Edison teams. Beehr's entrance into the administrative phase of the sport began in 1933 when he became secretary of the Battle Creek Bowling Association, a post he held for fourteen years.
Irv was appointed an ABC Director in 1943. That same year, Beehr and T. J . Halligan were responsible for having legisla­tion passed so that the Match Game Championships would be governed by the Michigan State Bowling Association. In 1945, Beehr presented to the annual meet­ing, rules governing the awarding of Life and Honorary Memberships. In 1946, Beehr, as the Committee Chairman, presented to the delegates at the annual Meet­ing rules for governing and guidelines for changing the State Tournament to a Clas­sified tournament, previously it was made up of two divisions, the Regular and the Booster. Irv served as President of the MSBA from 1947 thru 1953, the Elks National B.A. 1954-55, the Central States B.A. 1954-55 and the Battle Creek B.A. 1953-54.
He became a Vice President of the ABC in 1956 and its President in 1964. Bowling was more than a Household word to Irving C. Beehr, it was a major part of his way of life.