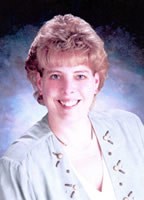 Ronda is more than qualified to receive the award for Superior Performance. She has consistently carried high averages in the 200 range with 234 her highest during the 2003-04 season. She has rolled nine 300 games, at lease one in each of the last five years. Along with high games and averages, she has many 700 and 800 series, with 824, 828 and 835 her highest.
After participating in ten Michigan Queens Tournaments, she won the crown in 2005.
In the State Tournament, she was a member of the Actual Team Champions in 2004 with a score of 3237. That same year, she placed second in the Doubles. In 1999 she and her partner won 1st place with a score of 1360. Her contribution to the score was 697, three pins shy of 700.
She was outstanding locally as well. She placed 1st in the Lansing WBA Queens Tournament four times, 1993, 2002, 2004 and 2005. She was a member of Lansing's All City Teams eleven times, 1991 through 2005. She also placed first in Team, Doubles, Singles and All Events. She has many more accomplishments too numerous to mention.
She certainly has earned her place with the other Superior Performers and we wish her all the best in the future.