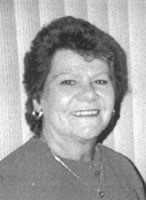 Carol started bowling at the young age of 8 years old and is still bowling. She learned about bowling when she helped her father at his lounge which had a four lane manual bowling area. She got plenty exercise manually setting the pins for the bowlers.
A highlight in her career was qualifying in the FIQ in October of 1975 and representing the United States in London and Paris. With Carol Schemers, she finished second in the Doubles.
Although she has a 169 average for this season, she maintained averages in the high 180's and 190 when they were considered excellent. In fact, her 188 average in 1976/77 was the eighth highest in Detroit. She never rolled a perfect game but came close with a 298.
Carol has participated in more than 25 Michigan WBA Tournaments and was the Actual All Events Champion in 1974 with a score of 1862. 
Locally, she bowled 669 to win the Actual Singles Title in the DWBA City Tournament in 1976 and, with Marge Kropacek, won the Actual Doubles in 1974 with a score of 1234. Carol qualified for the No.1 All City Team twice. 
Carol is a great addition to this Hall of Fame.