2010 - **Elizabeth "Buff" Romick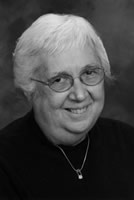 Elizabeth "Buff" started bowling in 1959 and joined her mother in a league as "Sharkey's." She also became interested in serving on the board as her mother was President of the Battle Creek Association. She started attending meetings and later was elected Sgt-At-Arms and held that position for 10 years, 1st Vice President for 1 year and then took over the position of Secretary in 1979 when the local secretary resigned. In 1975, she became secretary/treasurer of the Battle Creek 600 Club and still holds that position.
In 1986 Buff was appointed to the Michigan State Women's Board as District Director #9, a position she held for 16 years. She was elected Sgt-At-Arms in June of 2000 and was then appointed Fifth Vice President in August of the same year.
She is currently serving as Third Vice President. Buff has served on the Awards & Services, Delegate Reception, Tournament Opening, Nominating, Pioneer Club and Tournament Rules committees. She is currently on the Michigan Queens, Publicity, Honorarium and Hall of Fame Committees and is also the Michigan State USBC Women's Bowling Association Recording Secretary. 
In 1990 she was inducted into the Battle Creek Women's Bowling Association Hall of Fame making Buff and her father, the first father/daughter pair to be inducted into the Battle Creek Bowling Hall of Fame. She was honored as the Michigan Women's Bowling Association Secretary of the Year in 1999. While working at Battle Creek Health Systems, she was honored in 1975, 1986 and in 1996, she received the Physicians Excellence Award.