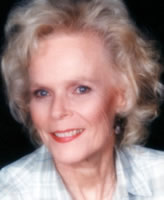 Jeanette Robinson, being inducted into the Michigan WBA Hall of Fame for Superior Performance was a member of the Flint WBA for many years before moving to Las Vegas for health reasons. When she left Michigan, Jeanette was carrying a 202 average which was unique as there were not many women who could reach this peak in 1978. 
Jeanette has many high scores to her credit. She has rolled more than thirty 700 Series, the highest of which is 795. "Unfortunately", her highest game is only 279 but, luckily, she had six of them.
As a State Champion, she won the Singles in 1964 and was on the winning team for both Actual and Handicap scores in 1977. 
On the local level, she won the Flint WBA Actual All Events five times and had a record score of 1876 in 1970. She not only won the Actual All Events in 1977 with 1831, but the Handicap as well with 1932. She was a member of the team winning the Actual Championship in 1971 with 3040. She was also a member of the Flint Journal Classic Team when they were named Champions in 1959. Detroit was able to claim Jeanette for one season and in that time she was Singles Champion with 670 and won the All Events with 1830. In 1975, she was the Michigan Men & Women's 700 Club All Events winner. 
Nationally, her team came in second in the Open Division in 1967 and, she did so well, she was 7th in the All Events. Her team came in 4th place in 1974 and 2nd again in 1976. In 1977, she placed third in WIBC Singles. Participating in the WIBC Queens Tournament, she came in 8th place in 1973. Recognizing her many skills, WIBC named her a Coach of the US Team to FIQ in Sweden in 1967.
For her spectacular achievements, Flint inducted her into their Hall of Fame in 1978 for Superior Performance. She also served as a Flint WBA Director from 1965 to 1975. At the same time, she was President of the Professional Women Bowler's Association. She was also on the AMF Staff of Champions from 1961 to 1967. 
Since moving to Las Vegas, Jeanette is still bowling well, collecting more titles, and has recently been named to their Hall of Fame. 
We from Michigan salute you.