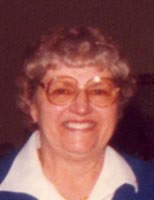 To be considered for induction into the Hall of Fame for Meritorious Service, you have to be quite active in the Association's programs.
Dorothea started out as a director on the MWBA board and served in that capacity for three years and spent the next 24 years as the Sergeant-at-Arms. 
In her service to the Association, she was Chairman of the Legislative Committee nine years and a member two years. After serving 21 years on the Honorarium Committee, she was appointed Chairman for two years. Of the many committees she served as a member include Tournament Rules, Ad Manual, Star of Tomorrow, Scholarship, Tournament Opening, Tournament Housing, and membership promotion. She was also a member of the YABA Board.
Included in State activities, she attended 5 WIBC State Leaders Workshops, Salute to Champions and two YABA National Workshops.
As a member of the Greater Grand Rapids Association, Dorothea served as a Director for 21 years and as Secretary for 20 years.
She was a Director for 44 years of the Greater Grand Rapids AJBC and YABA. She served on the Greater Grand Rapids Bowling Council as a Director for 14 years and Chairman six. 
She was also a Director of the Michigan Seniors Tournament for six years. It's no wonder she's been selected as this year's inductee into the Michigan WBA Hall of Fame for Meritorious Service.