2011 - Julie Wright Halstead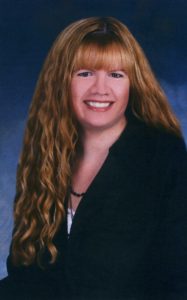 In 1992 the Michigan Women's Bowling Association awarded Julie Wright a 1500 scholarship in the category of Star of Tomorrow. At that time she had been multi-bowling the Farmington Hills area for several years under the coaching leadership of her dad, Ed Wright, and had carried a 170 plus average since 1981. Julie also held six titles in the Michigan Junior Masters Association during her youth bowling years-all this while she was attending Oakland Community College and working part time for a law firm. Now she has graduated and works full time for a law firm. 
She and husband Raymond are parents to nine-year-old daughter Cassidy. Julie recently qualified for the 200 plus averages in the Ten Pin Topics with a 207 in Western Wayne County USBC.
Julie has rolled several 300 games (one in the Michigan State WBA Queens Stepladder Finals in 1999 where she came in second). In 2000 she added the Queens Title to her long list of achievements. She also has added five 298-299 games, and a couple of 800 series (807 and 814). Her team placed first in the Michigan State WBA State Tournament in 2000 and she added first place singles in 2008 with a 750. In 2000 her five-woman team broke the world record for series with a score of 3,600. In 2008 she won the 40 Frame Game Singles in Toledo, Ohio with a 1241.
When asked if she wanted a "quote," all she said was, "Just thank my Dad for me." 
Congratulations, Julie! You are a perfect addition to our Hall of Fame.