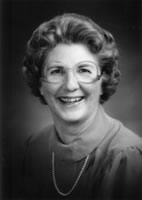 Being selected for Meritorious Service means doing things above and beyond the call of duty. Betty has the association uppermost in her mind and is always coming up with ideas for the betterment of the association and its members. She is a very gracious lady and works untiringly for the many women who participate in the game of bowling. 
Not one to stay in a position for any length of time, she moved from director (1964-1973) to 5th Vice-President (1973-1975) and on up the ladder to assume the Presidency January 1, 1982. She has found her niche and is doing a superb job. 
She has served on many committees but the workshop is where her many talents were discovered. She has helped Phyllis Smith, the Chairman, make the sessions interesting, fun, and educational. She has attended five WIBC State Leadership Training Workshops and brought back much information for our members. 
She is a member of the Michigan Bowling Council for six years and has served as President. 
Betty attended her first WIBC convention in 1973 as a local delegate and, as a State Delegate from 1980 to the present. She made a good impression there too, being named to the nominating committee in 1984, serving four years, and as Chairman for two of those years. 
Because Betty is so dedicated to be of service for the good of the bowling game, she deserves the honor of being named to the Michigan Women's State Hall of Fame for Meritorious Service and may we, her members, serve under her leadership for many, many more years.