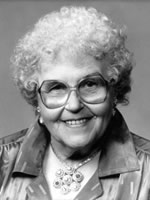 As Star of Yesteryear, Dorothy Brichta has won her share of honors. 
Her Mother was instrumental in getting her interested in the sport at the early age of 11. She bowled on her Mother's team and in that season showed her potential with a 611 series and 242 game to her credit. 
From there, she went on to be Michigan representative in the U.S. All Star Sweepstakes in Seattle, in 1951. Was Whittier Singles Classic Champion in 1948 and, in 1951, was Goebel Sweeps Singles Champion as well as Captain of the Free Press All City Team. 
In the State Tournament, she was on the winning team, Gears by Enterprise, in 1948 and, that same year, won the Doubles and was All Events Champion with a score of 1904.
In 1949, The Gears by Enterprise team, of which she was a member, won the Team Event in Columbus, Ohio. 
For her many achievements, she was inducted into the Detroit Hall of Fame in 1981.
Her highest average, in 1951, was 197, which was outstanding at that time. Her highest game was 288. 
Dorothy has retired from bowling but is still interested in the game and now joins the elite in the Michigan Women's Hall of Fame.