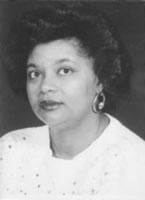 Of all our inductees who started bowling at an early age, Carmeletha is a late bloomer. She didn't start bowling until she was twenty. After a few years, she became such a good bowler, she was invited to join the All Star Bowlerettes. 
Carmen, as she is called, bowls in two leagues only and still maintains a 200 average, 204 this year, 208 in the 96/97 season and a 211 high during the 95/96 season.
She has rolled three 300 games, 299, 289 and numerous games of 277 and over. Her high series of 773 was attained in the 95/96 season. During the 1996/97 season, she rolled five 700 series, of which 767 was her highest. This season, she has two 700 series to her credit. 
In the State tournament she was a member of the Contour Power Grips Team that placed first in 1996 with a score of 3135. The team also placed first in 1994 and 1993.
Carmen has participated in seven MWBA Queens Tournaments, placing third in 1996 and fourth in 1994. This year, she was a contender in the Step Ladder finals finishing in fifth place. 
Locally, the team of which she was a member, placed first in 1997 with a score of 3089. The same year, she and her partner won the doubles. She was Singles Champion in 1996 with a series of 725. 
She was a member of the Detroit WBA Queen's Court in 1996/97, on the No. 1 All City Team twice and on the No. 2 Team twice. 
Carmen joins most of her teammates in the Superior Performance Category and we wish her continued good scores in the future.
ores and win more titles.