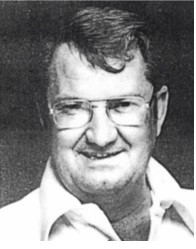 Howard moved to Flint from Sault Ste. Marie. His first bowling activities were as a 12 year old in the Upper Peninsula but the opportunities in those days (1940's) were nothing to compare with todays programs.
That early experience whetted his curiosity and his interest grew after landing a job setting pins in Flint for T. J. Halligan at Flint Rec. He was a good listener. He picked up on the finer points of throwing a bowling ball so well that it wasn't long before he was beating his teachers.
Howard came into the 1970's as the only Flint bowler to own more than one 300 game, having rolled two in 1955. He followed those with 300 games in 1974 and 1976. He had over 90 series of 700 or more by 1980. In 1974, he rolled a series of 803 which was only the 4th in the history of Flint bowling. He carried a high average of 215 in the 1969-70 season, bowling in the Flint Major Classic League. He was selected to the Flint All Star team in 1970, 1971, 1974, 1976 and 1978.
In 1959, Gilroy joined with Bud Lillard and Dr. Warren Clarke to form G. L. C. Bowling Supplies . The GLC Corp. has sponsored 100's of bowling teams and is responsible for donating over $40,000.00 to the Mens and Womens City tourna­ments in Flint.
He averaged over 200 for 16 years and bowled with the same team for 25 years. He won the Michigan State Singles title in 1959. He has bowled in 37 ABC tourna­ments and his GLC team finished 5th in the Team event in Rochester, NY
He was inducted into the Flint Bowling Hall of Fame in 1980 and was inducted into the Greater Flint Sports Hall of Fame in 1984.