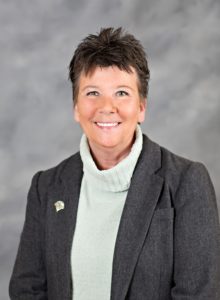 Our Hall of Fame recipient for Meritorious Service for 2014 is Karen Russell from Lapeer. 
Karen has been a member of the Lapeer association for 45 years. She has held a position on her local board for 32 of those years, including: Director- 11, Secretary Treasurer- 13, Vice President, -3, and President- 6. 
She has been a director on the Michigan State WBA for 13 years. While serving on this board she has been a member of: Awards and Services – 7 years (5 years chair), Pioneer club-10 years, Scholarship- 13 years, AD Manual- 8 years (chair), Strategic Planning- 4 years, and Finance- 6 years (3 years as chair) 
She has been the tournament director for over 14 years for "Lapeer Area 600 club" and serves as a director for the club.
Karen has also served as editor for the "Spare Sentences" a Lapeer USBC News letter for 10 years, and is President of two local leagues. She was Michigan State's WBA "Secretary of the year" in 2000, and was awarded the "Lapeer member of the year" in 2011. 
Karen is also a registered volunteer at Gerlach's Bowling center.
She has worked at the Lapeer County Bank and Trust, for over 10 years, and holds a position as auditing assistant. 
Karen's positive attitude, her willingness to help, and her ever present sense of humor, have long endeared her to her fellow bowlers, and the Michigan State Women's Bowling Association is proud to induct one of our own, into the Hall of Fame.