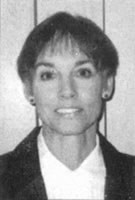 How nice to be honored in your hometown, Lansing. 
Cheryl has some outstanding records to make her eligible in the Superior Performance Category. She has two 300 games to her credit, numerous 700 series, with 780 her highest, while maintaining averages of 213, 215 and 223.
In the State Tournament, she was a member of the 1st place team when they rolled 3025 in 1988. Setting a record with a score of 1449, she and her partner won the Doubles in 2001. She has also participated in the Queen's Tournament, placing 2nd in 1989 and 4th in 1991.
On the National level, she placed 2nd in the All Events in 1994. Participating in the Queen's tournament that same year she finished in 9th.
In the local City Tournament, she won many of the events. Doubles in 1989 with a score of 1350, Team and Doubles in 1990, Singles and All Events in 1991, Singles and All Events again in 1993 and did it again in 1995. 
Cheryl won the Doubles and All Events in the Lansing 600 Club Tournament. She was the Lansing Women's Match Game Champion in 1989, 1990, 1992 and 1995.
Cheryl was inducted into the Greater Lansing Hall of Fame in 1999. Her accomplishments made her eligible for the Lansing Women's All-City Team in 1985 through 1990 (5 years).
Cheryl joins the other elite Superior members in this Hall of Fame.