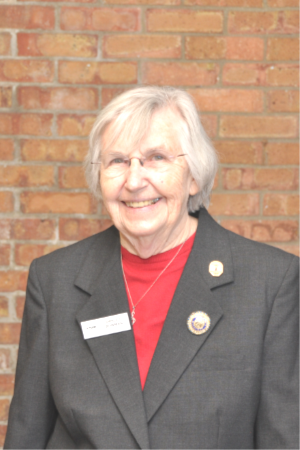 Sixty years ago a young widow was asked to bowl on a company team by a co-worker. Today we honor her with an induction into the Michigan State USBC Women's Bowling Association Hall of Fame for Meritorious Service.

Shirley Bowman is a lady who likes to keep a low profile. She quietly goes about the business side of bowling with little fanfare. She has however been involved in the business of running a bowling association for over forty years. This Traverse City native was a working single mother when she started her bowling career. In 1960, Shirley met and married Les Bowman and had a son. A couple of years later the new family moved to Muskegon which included Shirley's older daughter. Shirley continued to work and bowl in her new hometown. It was in Muskegon that she became involved in the business side of bowling as a league secretary. As league secretary she attended the association meeting and she became involved in the Muskegon association as a director. The family decided to move back to Traverse City in the mid 70's. The bowling obsession continued with Shirley bowling a high of five times a week. Before long Shirley joined the board in Traverse City.  During her tenure with the Traverse City Women's Bowling Association she served as a director, 2nd vice president, 1st vice president, and president.  In 2008, Shirley termed out of the new Traverse City USBC WBA. Among her proudest accomplishments during her time on the TC Board included helping start up the Traverse City Hall of Fame.  She was inducted into that Hall of Fame in 2001.

In 1999, Shirley began her role as Director #2 on the Michigan Women's Bowling Association Board. During her time on the Michigan Women's Board she has been a member of Hall of Fame, Delegate Reception and Luncheon, Champion Awards Banquet, Tournament Rules, and Awards and Services. In addition, Shirley serves as the Honorarium Chair on the board.

In 2001, Shirley was appointed to the Michigan State YABA Board of Directors. She has served since that time as the Northern A Director. On the youth board her committee assignments have included Schildroth Invitational Tournament, State Recognition Programs, and Nominating. She rotates as the chair of Nominating.

Shirley can be found at both championship tournaments each year as a worker bee. She does not seek the spotlight but goes about the business of getting the job at hand done. All who meet Shirley are greeted with a warm smile and a friendly word. Her gentle soul has been an asset to both boards.

Shirley also has a long history of charitable work in the Traverse City area. Not one to sit on her hands she started working with the Northwest Michigan Community Action Agency on their Meals on Wheels program. In 2001, she started as a site facilitator at the Traverse City site. The site services several counties in northwest Michigan. Shirley has since retired from the daily duties as site director but now drives for the program. She drives three days a week but offers her services as a substitute the other two days. Shirley's route on Mondays is a 77 mile round trip to her Meals on Wheels recipients.

For fun Shirley still bowls league sporting a 146 average and she travels to tournaments. She has bowled 42 WIBC/USBC Tournaments and has bowled state tournaments since 1958. Shirley can be seen annually at the Midwest Women's and with her Hall of Fame partner Sue McCormick at the Michigan Seniors each year.