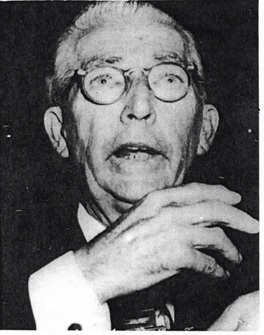 TJ. Halligan never was known for his outstanding bowling although nobody would sneeze at his 298 and 748 highs. T. J . also boasted a 200 average at his peak. Yet the silver-haired gentleman with an ever present cigar is best remembered for his role as a bowling organizer and promoter.

He helped form the Flint Bowling Association in 1925 and became it's first president. He was a director of the Michigan State Bowling Association 1925-1927 and for the next thirty years he brought to the annual meetings new ideas and formats which were readily ac­cepted by the board of directors. In 1945, T. J. and Harold Allen were appointed Field Commissioners for the Match Game Tournaments .

He was elected the first Honorary Member of the MSBA in 1945 . Halligan was the founder and first president of the Flint BPA. T. J. helped form the Michigan State BPA and was president of the National BPA in 1946 and 1947 . T. J. was instrumental in bringing a Handicap system to the MSBA tournament in 1949.
For his efforts and contributions he was elected to the Flint Bowling Hall of Fame in 1968. Yet most of all, Halligan was known as the friendly proprietor. He was always on hand to encourage  bowlers,  especially the young ones. A pat  on  the back from T. J. was considered an honor.