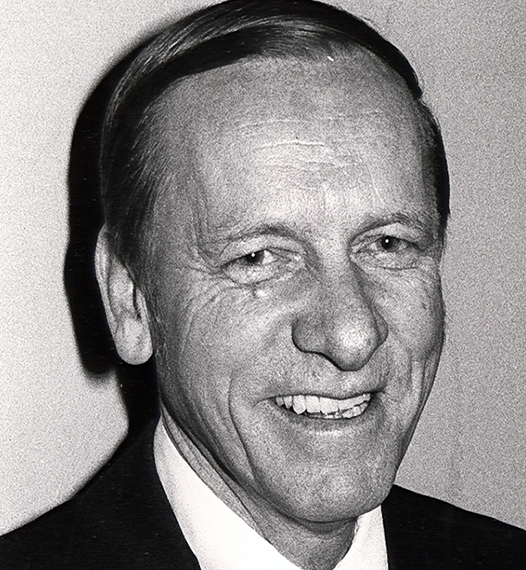 Bob came to Detroit in 1959 after being the high average bowler in the All-Star league in Minneapolis for four straight years. He joined the Stroh's team and carried the high average in Detroit All Star Classic in his first year.
The four-time USBC Open Championships titlist returned to the Twin Cities for a year to bowl with the Minnesota entry in the National Bowling League in 1960-61. When the league folded, he rejoined the Stroh's before eventually heading out for the PBA tour. He followed Don Carter as the second person to win the BPAA All-Star in 1963, PBA National in 1964 (becoming the top money winner on the tour) and USBC Masters in 1966. 
He won the BPAA All-star tournament in 1964 in Dallas, Texas and finished second in the World's Invitational the same year. He was selected as the "Sporting News Bowler of the Year". He has won four other PBA titles and was the ABC Masters Champion in 1966. He also was the 10-year ABC average leader.
Bob won the ABC Classic Doubles in 1964, Classic All events in 1967 & 1970, Classic team in 1974. He won the State team title in 1964. He was second in the ABC Classic team event three times (1961,1966, and 1969) 2nd in Classic doubles with Dave Soutar in 1967, 2nd in the Masters in 1970, 3rd in Classic Singles and All Events in 1964, 3rd in Classic Team and Singles in 1967 and five other 4th place finishes. His 30-year ABC average is 200 and his Masters average for 236 games is a 212
Bob has eight sanctioned 300 games, and is one of only a few bowlers who have bowled a 300 game in five different decades. He also has seven 800 series with an 833 his highest.
Bob also won the Association Masters Title in 1979 and was inducted into the Detroit Hall of Fame in 1971, the ABC Hall of Fame in 1977 and is now a member of the Michigan State BA Hall of Fame