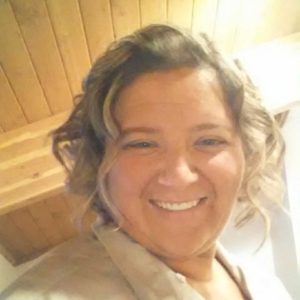 This year's Hall of Fame inductee for Superior Performance is Michelle Keirns. Michelle started her bowling career with other things in mind. At the age of five and for almost the next two decades Michelle bowled as a way to spend time with her family. In fact, this new Hall of Famer went to college as a softball player.

As part of a bowling family, this Jackson native bowled and excelled in the sport enough to bowl in Michigan Junior Masters Association tournaments. She even won a MJMA tournament in 1999 at Novi Bowl. That same year she became a state youth champion in doubles competition.  After college and starting a career as an accountant she still only bowled as an activity. Things changed however, when Michelle met Tanisha Burris in 2008.

The pair started to travel and bowl in tournaments on the weekends. The tournaments have included the Rip 10 Women's Series, PWBA regional stops, and the USBC Queens. They are also members of several leagues in several associations. Michelle is currently an association member of Lansing, Greater Jackson, and Metro Detroit.  Michelle has also been a member of Battle Creek, Kalamazoo BA, and bowled a summer league in Greater Grand Rapids.  For her efforts she has been named to all-city teams in Jackson (2009- 2016), Lansing (2013 & 2014), and Detroit (2014).  Michelle has won local Queens Titles in Jackson (2008 & 2010), Lansing (2011), and Detroit (2013).

In local association championship tournament play Michelle holds titles in the Lansing USBC for Actual Team (2012, 2014, 2015, and 2016) and Actual All-Events (2012, 2015) and Metro Detroit Actual Team (2014).  In state association tournament play Michelle holds titles in Doubles (2013, 2014) and Team (2013). In 2011, Michelle won the Michigan State USBC WBA Queens title and has continued to be a consistent top competitor in that tournament.

To round out her bowling resume Michelle has thirteen 300 games to her credit. Two of those 300 games were bowled on the same day on October 18, 2008. Two 300 games were bowled in Sport League competition. In addition, to the 300's Michelle has seven more games of eleven in a row.  She has three 800 series with the highest being 818. The most impressive statistic for this new Hall of Fame inductee is she has averaged 220 or more for a decade. Her highest average of 230 was established in 2013 at Pro Bowl West in Lansing.

Bowling is still a family affair for Michelle. At tournaments you will spot family members rooting her on and now Aunt Michelle can be spotted rooting for her two nieces on the lanes.  Michelle has come a long way from the five year old bumper bowler at Jackson's Bowl-A-Rama. Congratulations, Michelle on your well-deserved induction into the Michigan Women's Hall of Fame.