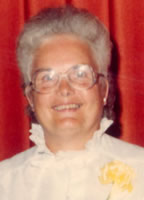 Lorraine Carroll, being inducted for Superior Performance, is from Grand Rapids and joins many of her bowling buddies in the Michigan Women's State Hall of Fame. 
Lorraine has many high scores to her credit, most important of which is the perfect score of "300" rolled on April 4, 1979. She has had many 600 series, the highest being 690. Lorraine still maintains an average of 180 plus, carrying 186 for the 1979/80 and 1981/82 seasons. 
In the State Tournament, she was on the winning team in 1965 (Dauser Brower) and 1979 (Wyatt Construction). She also won the doubles Event with Charlotte Kardas in 1963 and was Actual All Events Champion in 1983 with a total of 1880. She won the Michigan BPAA Plaque in 1952 – her first MWBA tournament – with an actual game of 269. 
She has been a winner in many events in the Greater Grand Rapids City Tournament, All Events twice, in 1963 and 1979; four time winner of the Singles. With her sister, LaVonne Kronberg, captured the Doubles title in 1954. She was on a winning team in 1963, 1967, 1971, 1973, 1975 and 1977. 
Lorraine was Captain of the Dauser-Brower Construction team which came in second in the BPAA National Team Match in Waukesha, Wisconsin, making her eligible for a spot in the St. Louis All Star Tournament. She captained the Dauser-Browner Construction team when they won the Championship in 1965 in the Chicago Herald American Team Tournament. 
Lorraine was named to the Grand Rapids All City Team in 1980, 1981 and 1982 and was given honorable mention five times. She is also a past member of the Great Lakes Invitational Tournament Group. 
Welcome to the Michigan WBA Hall of Fame for Superior Performance.