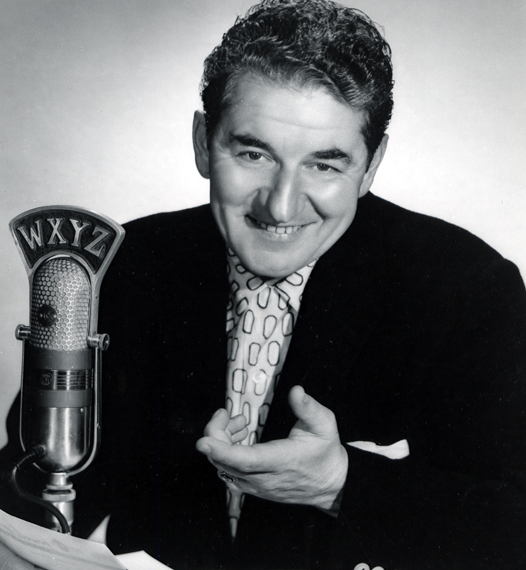 Long recognized as the leading bowling commentator on the nation 's airways, he has played a vital role in helping to build the prestige of bowling and gaining recognition for Detroit as "The Bowling Capital of the World".
It was a long jump from the pits of the Jefferson Club Lanes where he started as a pinboy in 1930 to his high station of an outstanding bowling commentator, but he made it and, in doing so, he also helped write a glowing page in the history of the game.
As a pinsetter, he quickly responded to the opportunity to bowl and in less than a year from his humble start he had rolled a perfect game. From that day on he did the unusual, not only as a bowler, but as a radio and television commentator and a proprietor.
He is a charter member of the All Star Classic, often looked upon as the strongest league in bowling, and served for years as one of the "spark plugs· of the Stroh team that won four world titles in the years between 1938 and 1945. Then came the blow that would have discouraged most people, but not him. Fred developed a back ailment that cut short his bowling career, at that level. It was then that he made the move that brought him more national distinction.
He turned to the nation's airways and in October of 1945 launched a radio program named "Talking Tenpins". In that role he also became the first commentator to broadcast a ball by ball account of the American Bowling Congress Tournament, roaming back and forth and letting the public know what was happening .
From there the next step was easy. When television came into being he was among the first to get bowling on the screen. He did it with a program called "Make It and Take It".
His work here soon caught the fancy of the powers that were in television and it wasn 't long until he was on the networks with a program called "Championship Bowling ".
Meanwhile he sank his interest deeper into bowling and became one of the area's top propri­etors . . . a man who contributed a major share to boosting the prestige of the game.
Fred won the State doubles in 1942, city doubles in 1941 and led the All Star Classic aver­ages in 1941-42 with 206. He had 300 games in 1931, 1954 and 1975. He was elected to the Detroit Bowling Hall of Fame in 1965 and the ABC Hall of Fame in 1976.