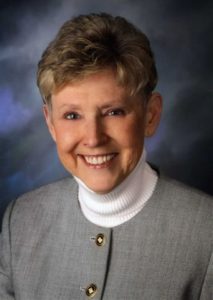 Sharon is the fourth member of her family to be honored by the Michigan WBA. Daughters Colleen and Bridget were scholarship winners and mother Dorothy was inducted into the Hall of Fame in 2007. 
Sharon served as a director of the Detroit WBA for 16 years then moved on to the Greater Grand Rapids WBA Board for another 19 years. When Grand Rapids men and women merged and became the Greater Grand Rapids USBC she was ready for the challenge and accepted the position of President. 
For the past 25 years she has been the Michigan State YABA secretary/treasurer and currently is Michigan State USBC Youth manager and tournament director. In her spare time she is a bowling In State Instructor/Coordinator as well as a Certified Coach. To acknowledge the work she and husband Roger have done over the past quarter of a century, the board dedicated the former All Star Tournament to them by renaming it the Schildroth Invitational Tournament.
A nine year member of the Michigan State USBC WBA Board Sharon has served on several committees and is presently chair of the Financial Committee. Nationally she served on the WIBC tellers committee for 5 years and YABA committee for 3 years both by presidential appointment. She has been a director on the Michigan State Bowling Council 24 years and a member of the Greater Grand Rapids council 13 years. For 32 years she has been a league secretary for 2 leagues and has refused any salary. She is always willing to give support and share her knowledge with new members or officers. 
Yes, she also takes time to bowl and has bowled in 33 National and 43 State Tournaments and served as delegate to National Convention for 32 years. In addition to all this, she volunteers to co-ordinate the hotel arrangements for the Grand Rapids Delegates to the National and State Annual meetings, the National and State Tournaments plus rooms for all additional team members.
CONGRATULATIONS SHARON ON BEING PART OF THE FIRST MOTHER AND DAUGHTER TEAM TO BE INDUCTED INTO THE MICHIGAN STATE USBC WBA HALL OF FAME.