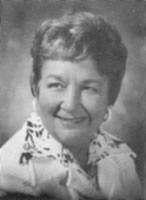 A more dedicated lady you will never find. She has devoted much of her life to the operation of the Michigan State Association. She is the second Senior Member, being elected Second vice-President in 1950. She was appointed First Vice-President in 1963 and served in that capacity for five years. Having all this experience won her the election as President in 1968, holding that office for eight years. Upon the resignation of Marguerite Strokis, was appointed as Secretary and has run the State office efficiently since 1976.
In her career on the State Board, she has worn many hats. She was a member of the Legislative Committee, serving as chairman for five years. Served as President and Secretary, alternately, of the Michigan Bowling Council. 
Bea was elected to the WIBC Board of Directors in 1972 at the Kansas City, Mo. Convention, serving enthusiastically on many committees, most important of which is the current Budget & Finance Committee. She was State Delegate to the WIBC Convention three years and served on the WIBC Nomination Committee two years.
Locally – Bea was Vice-President of the Lansing WBA for 1 year and President for five years. After moving from Lansing to Houghton Lake, was elected and served as a member of the board for nine years. While there, was inducted into the Houghton Lake WBA Hall of Fame for valuable service rendered. 
Now living in Ossineke and belonging to the Alpena WBA, she is considered a valuable asset to their association, being very helpful and encouraging in their endeavors.
Beatrice Lane comes very highly recommended and we are very proud to bestow the award for Meritorious Service to her.