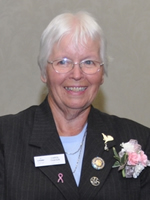 What qualifies someone for the Michigan State USBC WBA Hall of Fame for Meritorious Service? One just has to look at this year's winner to see what "makes the grade".
Carol Thayer has a long "career" in the bowling world. She started out bowling in the American Junior Bowling Congress in high school and has been "hooked" ever since, over 50 years of bowling. Locally she has served as a league secretary for both the Thursday Afternoon Ladies league and the Tuesday Night Ladies league for over 30 years. She also was a director on the local board for 6 years, served as a Vice President for one year and for 27 years was the Association Secretary, a total of 34 years serving locally. 
But her service to bowling did not stop at the local level… 27 years ago she was elected to the State Board, and over those years she has been on numberous committees: Hall of Fame – 12 years as member – 1 year as chair, Pioneer Club – 3 years as a member – 15 years as chair, Delegate's reception/luncheon – member 13 years, Tournament rules – member 10 years, Finance – member 7 years, Michigan Queens Tournament – member 8 years, Legislative – member 7 years, Tournament housing – member 2 years, Scholarships – member 6 years, Membership Promotion – member 11 years, Awards banquet – member 1 year, Ad Manual Ad Hoc – member 1 year, and WIBC State Leaders Workshops – 2 years – Whew! No wonder Carol was a "shoe-in".
Some other achievements of Carol's: 1st place in WIBC Division I team event in 1982 and 1st place in: "all-events", actual and handicap, and doubles in 1985. The achievement which pleased her the most, was a plaque given to her by the Thursday Night Ladies for having a 500 series every week for the whole season. She has also bowled in both the MWBA State and the 600 Tournament many times. 
Carol herself talked about her love of the sport: "It has been most enjoyable bowling with family and friends. It has given me the opportunity to meet people from all over the US and even Japan. I have acquired many lifelong friends across Michigan. I never dreamed that one day I would be serving on the Michgan State Board. It has been a very rewarding and enjoyable ride."
This nomination was submitted by Judith Anderson, who was proud to be a long time teammate of Carol's: "She makes each week a fun time and has shown dedication to the WBA with her vast knowledge of rules and regulations." 
We as the board of directors are also proud of Carol, and we are thrilled to induct her into the Michigan State USBC WBA Hall of Fame, a truly deserving honor.