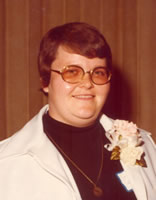 An outstanding bowler, Terry makes it look so easy. She has two 300 games to her credit, many 700 series of which 790 is the highest. She has maintained a 200 average for several years, with 202 for the 1988/89 season and a high of 207 during 1983/84.
In the Michigan Queen's Tournament, Terry was the first champion in 1984 and has participated in all seven tournaments. She placed 5th in 1987, 3rd in 1988 and 3rd this year in Bay City.
She was a member of the Luxury Lanes Team which won the Championship in the MWBA tournament in 1982 with a score of 2909 and was All Events Champion in 1978 with a total of 1872. 
Locally, in Detroit, she rolled 2107 to become All Events Champion in 1988. That same year, won the Doubles with Cora Fiebig with a score of 1385. The next year, 1989, tried to win the Doubles, again with Cora, but came up a little short with a score of 1260 to earn third place.
Before joining the two Detroit All Star Classic Leagues, Terry was a member of the Pontiac WBA where she won two Team Championships, two Singles and two All Events. 
Terry has participated in 15 WIBC Tournaments, carrying a tournament average of 187. 
Her bowling achievements have earned her a place on the Detroit WBA All City teams, on the 1st team four times and twice on the 2nd team.
Terry is still in her prime and although she has accomplished a lot, we will be hearing of a lot more Superior Performances in the future.