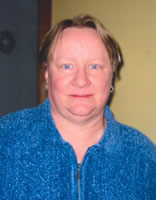 While very young, she bowled with the Detroit's best bowlers in the Ladies Major League and the All Star Bowlerettes.
Here highest average was 198 during the 1987/88 season. She maintained an average in the 190's from 1979 through 1994/95, last season bowled. 300 games were hard to come by during that period so the closest she could come to that was 288 and a 700 series.
Susan was captain of the C. F. Plastics team when they won the Actual event in 1984 with a score of 2969, in the State Tournament.
Participating in the WIBC Tournaments, Susan finished 3rd in the Singles in 1973 with a score of 682 and 2nd in 1976, rolling 662. 
Locally, she won the singles with a score of 659 in 1974 and was a member of the winning team in 1977 with a score of 2845. Those scores don't compare with the current 700's, 800's and 3500's but we must remember, bowling equipment and conditions have changed.
Susan made the Detroit WBA Queen's Court in the 85/86 season and was a member of the No.1 All City Team once and 2nd Team three times.
Bowling for Team USA in 1987, she placed 1st in the Regional Finals with 3554 for 18 games, 5th in State Finals with 2260 for 12 games and 7th in the National Finals 9319 for 48 games. She was a Champion in the Mid-City Women's Singles three times and a winner in the Detroit Free Press Charity Tournament.