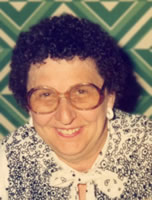 Pat Lewis has been a Director of the Michigan Women's Bowling Assn. for twenty-two years and has served on many committees during that time. 
She did a very good job as Chairman of the Memorial Service for fourteen years at the Annual Meeting. 
She was also Chairman of the Legislative Committee for 10 years and a member for 6 years, Tournament Opening Chairman 3 years and a member 7 years, Chairman for the Tournament Opening one year and on the committee 4 years. Other committees of which she was a member include Delegate Reception & Luncheon, Tournament Rules, Hall of Fame, Awards and Services, NBHF&M, Tournament Housing and WIBC 75th Anniversary. 
Always interested in matters pertaining to the Associations, she attended 5 WIBC State Leaders Workshops. 
Pat has been a WIBC Delegate 22 years and served as a Teller one year.
Locally, she served on the Greater Grand Rapids Women's Bowling Association board for 23 years, as a Director 11 years, Vice-President 3 years and President 9 years. 
She enjoys bowling and has served as a league Treasurer, Secretary and President. 
Pat served as President of the Insurance Women of Grand Rapids. 
She still finds plenty to do even though she has retired from her job as a Workers Compensation Claims Specialist. 
For all her service to the Association, Pat is very deserving to be inducted into the Michigan Hall of Fame's Meritorious Category. We wish her well in the future.