2011 - Margaret "Libbi" Fletcher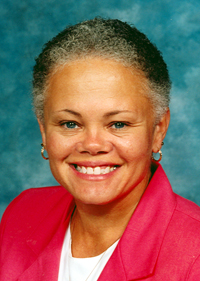 In the 35 years that Libbi has been a member of what is now the Metro Detroit USBC, 25 were as an Officer or Director – first as a Director for 15 years, and from 3rd Vice-President to President in the next five years (a position she held for four years). Because of term limits, Libbi was unable to seek re-election as President, but she is once again serving as a Director on the Metro Detroit USBC Board. 
She served on the WIBC Board of Directors from 2002 until 2006 with various committee assignments. In 2007 she was appointed to the USBC Board of Directors, was re-elected in 2009 and is presently chair of the Strategic Planning Committee and the Diversity Committee.
For 20 plus years, Libbi has been recognized as a Michigan State WBA State Tournament Squad Leader by bringing in 10 or more teams to bowl in the State Tournament. She also was a member of the Tellers Committee for three years, served as its chair for one year and was an Assistant Sergeant at Arms for one year. She has bowled in 30 consecutive city, state and national tournaments.
Libbi was inducted into the Detroit Bowling Hall of Fame for Meritorious Service in 2008 and that same year was a recipient of the John P. Gavie Award, an award that promotes the sport of bowling. She was also honored as the 2005 Woman of the Year by the DWBA. 
Congratulations Libbi on your Hall of Fame induction!