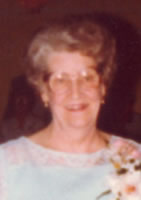 In her lifetime of bowling, which covers a span of 46 years, Ethel has achieved many honors. She is a charter member of the All Star Bowlerettes League where her average ranged as high as 188. She has many high games to her credit, her highest being 277, of which she rolled two. She was also capable of bowling series of 715 and 701. 
On the State level, Ethel has participated in more than 35 Michigan WBA Tournaments. She and her partner, Marian Gorman, won the Doubles event in 1950. As Ethel Rollo, she won the Singles Event in 1942 with a score of 604 and was Actual All Events Champion in 1942. 
Participation in 36 WIBC Tournaments, Ethel was on a Champion Team – B & B Chevrolet – in 1953. Along with Gladys Dempsey, won the Central States Doubles Tournament. 
Locally, she has been on a Champion Team in the Detroit WBA City Tournament in 1954, 1957, 1959 and 1962. She won the Doubles with Helen Shablis in 1958. The same year, she was All Events Champion. 
Ethel is a life member of the National "700" Club, was Secretary of the Detroit 600 Club for nine years, as well as Secretary of the Detroit Pioneer Club for two years.
She is a member of the Detroit WBA Board of Directors and works on the staff in the Detroit office. 
Although named "Star of Yesteryear", Ethel is still very active, participating in two leagues and maintaining an average of 157.