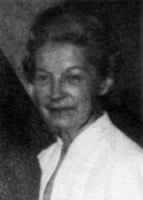 Olive has a long list of service to the game of bowling. She was involved in it for forty-five years during which time she became involved in local activities and was a Lansing WBA director for one year. Evidently they discovered her great ability as she was then elected secretary and held that job for a record twenty-nine years. 
Somehow, she got interested in the State Association, and after being a director for ten years, worked her way up the ladder. She was 5th Vice-President one year, 4th Vice-President one year, 3rd Vice-President one year, 2nd Vice-President one year and, finally, 1st Vice-President for three years. The state also recognized her abilities as she did a splendid job as Chairman of the Tournament Rules Committee for twelve years, handled the WIBC Michigan Delegates Luncheon for three years, was on the B & F Committee seventeen years, was a member of the Delegate Reception Committee one year, Chairman of the Michigan WBA Delegate Luncheon for five years and Tournament Opening Committee Chairman one year. 
On the National level, she attended the WIBC Conventions as delegate from the Lansing WBA for twelve years. 
She was active at all functions and was well liked by all who came in contact with her. She was small in size but great in stature. She will be missed by many but we present this Meritorious Service Award with the happy thought that Olive knew how well we regarded her and would be inducted into the Michigan WBA Hall of Fame at this meeting.