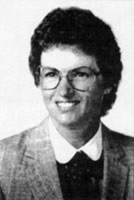 Marion has some outstanding records to qualify her in this category. She has maintained a 200 average since 1995, with 207, her highest. Let a 300 slip through her fingers in 1998 when one pin remained standing, leaving her with a 299 game. Her other high games included 289, 286, and 279. She's also rolled numerous 700 series, with 787 her highest in 1995. 
In the State Tournament, she was a member of the Champion Team in 1988 when they had a score of 3025. She did very well in the Doubles too. 1st in 1993 and 1999, contributing 707 to the total score of 1360.
Marion participated in five Queens Tournaments, placed fifth in 1989 and maintained a 207 average for 20 games.
In the WIBC Tournament, she and her partner placed 2nd in 1995 with a score of 1280. 
She was inducted into the Lansing Bowling Hall of Fame in 1990, was the second woman in Lansing WBA history to shoot 701 in 1972. Received the Lansing WBA Memorial Trophy in 1973 for having the high actual series, any event, of 678. 
She also did very well locally. She was a member of the first place Actual Team Champions nine times, Actual All Events, 1876, in 1973 and Doubles in 1985 and 1987.
Marion qualified for the Lansing All City Team ten times, was Captain twice. 
You can see, by all these accomplishments, why she should be inducted into the Hall of Fame for Superior Performance.