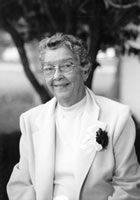 Genevieve Miller, known to us all as "Gen" has served the bowlers in one capacity or another in her own local association and on the state level. 
Gen retired as Secretary of the Jackson WBA after serving 21 years. Prior to that, she served as President 5 years, Vice-President and Treasurer, one year each. She is a Charter Member of the Jackson Bowling Hall of Fame and was inducted into it in 1972.
In 1964, Gen was elected as a director of the Michigan WBA and at her retirement she had completed her term as 2nd Vice-President and did not seek reelection. Her responsibility and enthusiasm were evident in the fact that she missed only one Board Meeting and never missed a Committee Meeting. She served on the Legislative Committee for 15 years, Chairman of the Workshop in 1968 and Tournament Luncheon from 1973 to 1980. 
Gen Served as Chairman of the new Hall of Fame Committee in 1975 and devoted a lot of time and effort in getting it off the ground. 
Along with all of her duties, Gen has enjoyed a bowling career which began in 1932. She loves to reminisce in "How it Was" and "How it Is" and will always be remembered for her many stories and songs.