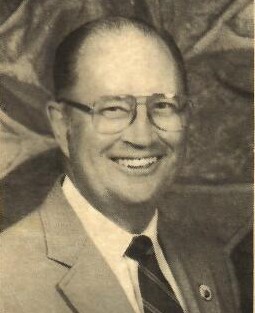 In 1955 Tom started working for the Greater Detroit BA. He worked on committees to explore printing an association yearbook. The first copy of this yearbook was printed in 1963. He also worked on the development of the Association Masters tournament, and the first one was held in 1964.
In 1965 he was elected Secretary Treasurer of the association and started giving plaques to each league, he also wrote a regular column for the Modern Bowler (Digest) and started recognition for tournament squad leaders.
In 1961 he was on the team that won the state tournament actual title. He 1962 he was elected secretary treasurer of the All-star Classic. In 1966 his team "Coca Cola" won the Class A association team title, during this competition Tom rolled a 299 game. The same year, he won 4th in state actual doubles with Tony Loiacano. In 1967 he was 2nd in state actual doubles with Bob Lukanowski. In 1974 he won state actual doubles again with Tony, the ABC team all events with Goebel Beer team, and won the Spring All Star Class Championship with that same team.  Tom was 2nd in ABC team all events in 1976. In 1982 he qualified for Association masters and led the tournament with a 215 average. Tom was 2nd in ABC team all events with Goebel Beer in 1976 and 3rd in 1979. In 1993 he bowled in the association masters for the 29th time, averaging 200 for 360 games. In 1982 he qualified for the Association Masters and let the tournament with a 215 average. In 1983 he rolled another 299 game in this same tournament.
Tom continued to serve his association, being re-elected in 1967. At that time, he started the senior five-man tournament. In 1968 the Detroit association purchased a building for joint offices with the Detroit Women's Bowling association. He also started 150 over average awards and chevron awards for games according to averages. In 1970 he chaired the committee that brought ABC tournament to Detroit (1971).
In 1974 he was appointed to ABC Board for directors, he became ABC rules chair in 1981, 10th Vice President in 1982, also served as chair of these committees: Industry Relations, ABC New Equipment, ABC Equipment specifications committee, Hall of Fame, and ABC Mixed competition. In 1991 he became President elect of ABC and was installed as President in June 1962. There where almost 500 people in attendance and his daughter, Chris announced that on June 10th was his birthday and so she played Marilyn Monroe and sang "Happy Birthday Mr. President"
In 1995 he bowled in his 36th ABC tournament, averaging 194.7 for 360 games. He also bowled an 822 series in April 1995. He rolled a 300 game in Association Senior Master tournament in April of that year., and set the record for high four game block (1056) and high eight game qualifying with a 2005 (250.6 average) He finished the year with his highest lifetime average of 214.
Tom was also involved in numerous charities, most notably running the Steve Cruchon Memorial Pro- am Tournament, which has raised over $78.000 for the Michigan Cancer Foundation and the National Bowling Hall of Fame and Museum.
Awards: received "Bowler of the Year" in 1978, elected to Greater Detroit Hall of fame in 1980, received the Judge John Watts award in 1982 and welcomed into the Michigan State BA Hall of Fame in June 1996.