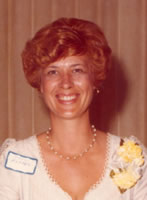 A Superior Performance is just what Gerry gives. Rolling a 300 game in the State Tournament, and being the first to do it, is, in itself, a great achievement. She also came up first and was crowned winner of the 1986 Michigan Queens Tournament. Other State titles won were All Events in 1987 with a score of 1957, Doubles with Jan Dimmer in 1986 and, in 1979, with Jan Pavella. She was also on the Champion Team in 1963 when Bonanza Restaurants scored 2801. 
Gerry bowls in the Bonanza All Star Bowlerettes League and carries a 193 average but has had higher averages, with 201 recorded for the 1980/81 season. And, for the few times she bowled in the Arena Pro Shop Ladies Major Classic League this season, she reached 210. 
Gerry has many 700 series to her credit and the highest, 768, was rolled this season, along with a 289 game. 
Locally, Gerry has also done well. With Anita Cantaline, she won the Doubles in the Detroit WBA City Tournament in 1970 and, again, in 1983 with Penny Behn. She's been part of the DWBA Queen's Court four times and on the 1st All City Team four times and on the second team three times. She's won other titles as will. The Mid-West Tournament three times, Fowler Ladies Singles and the five-game and ten-game Hoinke Tournament. The title of Woman Bowler of the Year did not escape her either. She was given this honor by the Bowling Proprietors Association. 
Our sincerest best wishes go to Gerry in all her future endeavors.