The 2022 Masters Tournament will be held March 19 & 20
2021 Michigan State MASTERS
JUSTIN KNOWLES WINS MICHIGAN STATE MASTERS
Hosted by Royal Scot, Lansing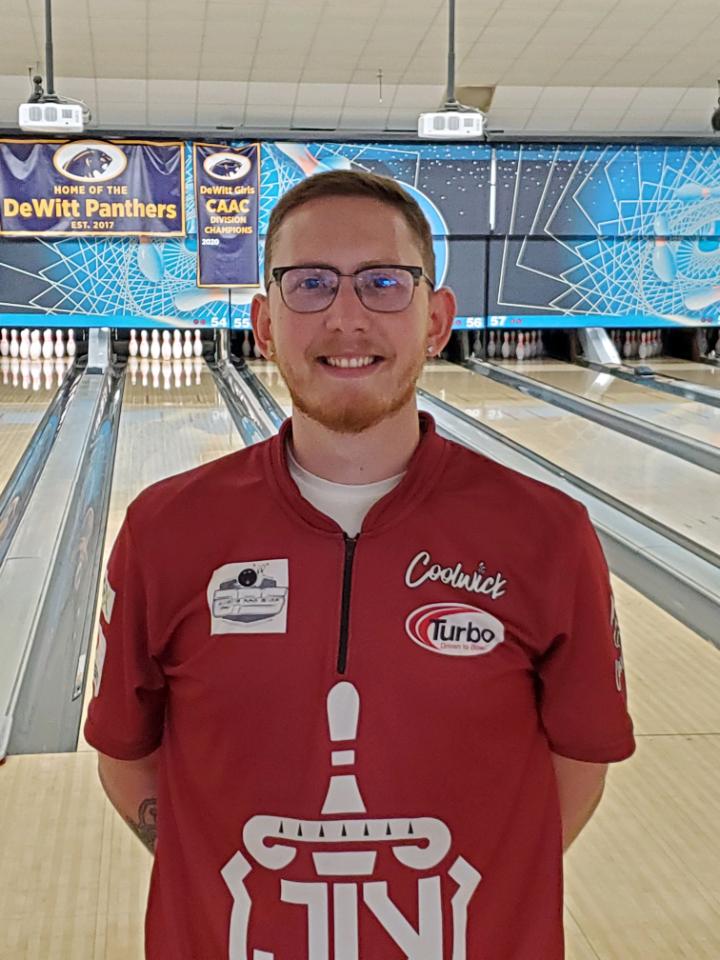 JUSTIN KNOWLES WINS MICHIGAN STATE MASTERS TOURNAMENT
AT ROYAL SCOT GOLF and BOWL

Justin Knowles of Okemos won the 2021 Michigan State USBC Masters Tournament at Royal Scot Golf and Bowl by defeating Frank Snodgrass of Centerville 449-419.
Knowles qualified first with a six-game score of 1437. In match play he defeated Lonnie Jones of Ypsilanti 463-445, Shane DuFresne of Bay City 486-388, Jeff Roche of Dearborn 470-357, before sending Snodgrass to the Losers bracket 487-439.
Snodgrass defeated Carl Boldt of Pontiac 424-382, Brian Odom of Romulus 419-413, Brian Ivey of Howard City 490-390, before losing to Knowles the first time 487-439. In the Losers bracket, Snodgrass defeated Mason Brantley of Detroit 456-392 to return to the Winners bracket to again face Knowles.
Brantley finished third earning $750. Brantley was sent to the Losers bracket in the first round by Brian McMahon of Saginaw 415-414. Brantley then defeated defending champion Craig Nidiffer of Dearborn 449-403, Shane DuFresne of Bay City 432-424, Jeremy Bloor of Millington 482-386, Brian Ivey of Howard City 445-419, and Jeff Roche of Dearborn 401-369 being eliminated by Frank Snodgrass 456-392.

Brian Odom had the high game of the weekend when he shot 300 in the fourth game of his six-game qualifying score of 1338.
The field of 54 bowlers averaged 191.75 during the six games of qualifying.
The top 16 qualifiers averaged 215.28 during qualifying and 210.68 in match play.
The Michigan State USBC Masters Tournament is a USBC certified event operated by the Michigan State USBC.
Entire Entry fee was
applied to the Prize Fund
PL
NAME
CITY
AVERAGE
WINNINGS
1
Justin Knowles
Okemos
$2,000
2
Frank Snodgrass
Centerville
$1,000
3
Mason Brantley
Detroit
$750
4
Jeff Roche
Dearborn
$500
5
Brian McMahon
Saginaw
$400
6
Brian Ivey
Howard City
$400
7
Brian Odom
Romulus
$350
8
Jeremy Bloor
Millington
$350
9
Dan Pollak
Fraser
$325
10
Conner Weber
Wayne
$325
11
Shane DuFresne
Bay City
$325
12
Carl Boldt
Pontiac
$325
13
Lonnie Jones
Ypsilanti
$320
14
Brian Waliczek
Frankenmuth
$320
15
Craig Nidiffer
Dearborn
$320
16
Charles Zelechowski
Westland
$320
SR
Mark Abraham
Lansing
$150