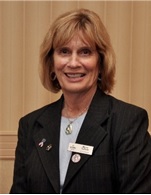 Merry's journey with bowling and her service to our sport began over 40 years ago, when she was invited to attend the Holland Women's Bowling Association's annual meeting. A year later she was appointed to that board and has been a member and worker ever since.

She served as a director for about 8 years before being elected as their Association Secretary in 1997. She held this position for 12 years until her association merged under USBC. While serving Holland, Merry served on many committees including Publicity, Rules, Budget, Tulip City Mixed Doubles Tournament, Banquet, Lane Inspection and Yearbook – a job she is still doing and she continues to serve on her local association board as one of their vice presidents.

In 1998, Merry was also elected to the Michigan State Women's Association as Director #6, a position she held until she was appointed a Vice President in 2010. She served as 2nd Vice President for 4 years before moving up to 1st Vice President in 2014 and then was elected to President in 2015.

During her tenure on the state board, Merry has been a member of and/or chaired the following committees: Champion Awards Banquet (13 yrs), Tournament Opening (15 years), Queens (16 years), Publicity (13 years), Workshops (6 years), Board Minutes (4 years) and Tournament Rules, Awards & Services, Delegates Reception, Finance, Legislative, Uniforms and Tournament Housing (2 yrs each).

For close to 20 years, Merry wrote articles on bowling for the Holland Sentinel and she now writes the Holland 'mailchimp' association newsletter and is the publisher (she does it all) of our own electronic newsletter – the Ten Pin Topics.

And while many of us can relate to juggling our work and family schedules with our bowling, Merry did so while raising two children, one with special needs, and working a full time job which she just recently retired from after over 30 years.

Merry is also a bowler – having bowled in 34 state tournaments, approximately 20 national tournaments and a yearly participant in all of her local association events where she has been a champion in doubles and team on more than one occasion.

For those of us that know her, Merry truly lives up to her name of "Merry" – forever positive and smiling! A friend and supporter to all! And that 'merry' stands for Christmas as well – she celebrates the entire year!

For her dedication and efforts, Merry has been recognized as our Secretary of the Year in 2006, Holland's Secretary of the Year in 2010, Holland Tournament Honoree in 2007, State Journalist winner in 2003 and BVL Volunteer in 2013. And now we recognize her continued dedication by inducting her into the 2016 Michigan State Women's Bowling Association's Hall of Fame.

Merry, Congratulations – the Michigan State Women's Hall of Fame is proud to welcome you as one of its newest member.