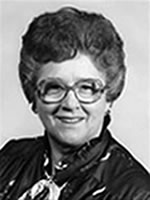 Anne Setlock, of Detroit, Michigan, began setting her records bowling on the local level in Detroit by winning the All Events Actual and Handicap in 1950. She was also a member on the Colonial Broach team who won the team title the same year. This was just the beginning of her bowling accomplishments. 
Three time Michigan Champion in Team Event – 1960 – 1963 and 1967. She also captured the All Events title in 1963 and again in 1967. 
On the National level she was a member of the Colonial Broach team when they captured team title in 1957 and again a winner bowling with the B. Snethkamp Chrysler team in 1959. 
She has recorded around eight "700" series, the highest being 776 during the 1969-1970 season. Her highest average of 204 was during the 1970-1971 season. 
While her titles are too numerous to mention, one of the most exciting must have been the "perfect 300" during the 1969-1970 season. 
Anne was inducted into the Detroit Hall of Fame in 1971-72 and was Detroit's Queen in 1971.