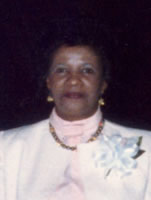 For her past performances, Mary is being named Star of Yesteryear. Mary gave up her 23 year bowling career to take care of her daughter Darlene who became seriously ill and whom she lost February 4, 1983. 
Among her accomplishments, she has several 700 Series, her highest being 715, and games of 289, 279 and 278.
Bowling in the State Tournament with her partner Lavolia Brown, they won the Doubles in 1966 and again in 1978. Mary was also on the winning Motown Records Team in 1971 and 1972. 
Locally, the Motown Record Team won in the Detroit WBA City Tournament in 1972, 1977 and again in 1979. The All Events title was hers in 1974 with a score of 1804. During her career, she bowled in many tournaments. In 1969 she came in first with daughter Darlene in the Mother & Daughter Tournament at Lucky Strike and won third place with daughter Sharon. In 1970, it reversed itself. She and Sharon were Champions, with Darlene, she came in second. 
An inseparable duo, Lavolia Brown and Mary won the Doubles in the NBA Tournament in 1971. Still competing, Mary came in second in 1977 as NCA Queen in Louisville, Kentucky. 
On the National Level, Mary participated in many WIBC tournaments but was not lucky enough to win any titles.