1996 - Basil "Buzz" Fazio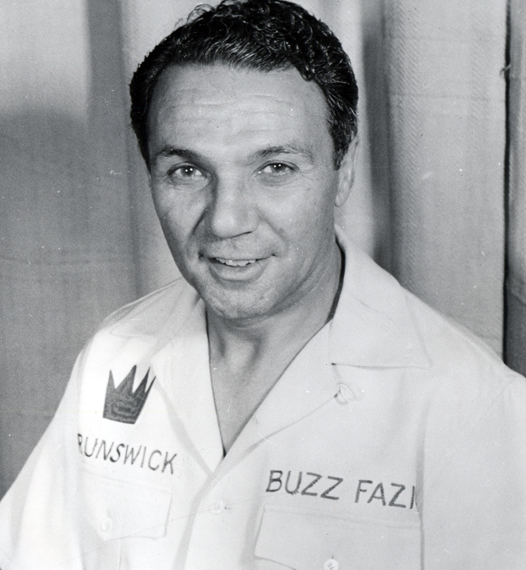 Buzz was a star in Akron before joining the Stroh's team in 1947. He captained the team for nine seasons before moving to St. Louis to form the Falstaff team in 1957.
He has four ABC titles, team in 1958, team all events in 1951 and 1958. In the fall of 1955, he won seven straight live television matches in Chicago. He also had an 802 in Detroit, the first live 800 ever televised. He won the 1955 USBC Masters before losing the 1968 title to Pete Tountas at age 60, who came out of the loser's bracket to win both matches in the double elimination finals.
He was a first Team All American in 1958 and was on the second team in 1956,57, and 59. He was the "King of Bowling "in Detroit in 1954-55.
Buzz had a 194 average for 44 ABC tournaments and had a 208 average for 158 games in the ABC Masters tournaments. He also won the BPAA doubles in 1951 and again in 1954. He made the finals in seven All Star tournaments and had a 202 average for 1166 games. He also had a 204 average for 310 games in the World's Invitational and made the finals twice.
He was a member of the PBA with two titles, New Jersey open and Sacramento Open.
Buzz and was elected into the ABC Hall of Fame in 1963.
Inducted into the Michigan State BA Hall of Fame June 1996.