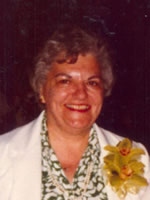 Anita Cantaline, of Detroit, in 1956 won the BPAA All-Star Tournament in Chicago, Illinois, the BPAA National Doubles, teamed with Elvira Toepfer, and was named "Woman Bowler of the Year" and this was just the beginning. 
On the local level, Anita accumulated 3 team titles and 3 doubles titles. In 1953 she held the City high record for six games of 235, 246, 211, 232, 208 and 243. Her highest averages attained were 191 and 196 in 1962 and recorded her highest series of 729 and 735 in 1964. 
State titles consisted of 4 team championships in 1954, 1960, 1963 and 1977. 2 Singles Events in 1959 and 1963 and the Doubles Event in 1962. 
Anita was a member of the WIBC Team Champions in 1957 and 1959 and was the only bowler to bowl 600 in each event on her way to capturing the WIBC All-Events title in 1957. 
In 1979, the ultimate was achieved when she was inducted into the WIBC Hall of Fame for Superior Performance.