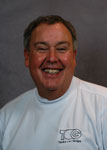 John Bennett is being inducted in to the Michigan State USBC BA Hall of Fame for Superior Performance.
John is the ultimate team player, winning four Michigan State Team titles in 1979, 1984, 1987 and 2005.
Locally he won the Greater Detroit Bowling Association Masters in 1977 and Senior Masters in 2004. He also won three GDBA Team titles in 1978, 1979 and 1989. He was named to the Detroit All City team five times and the Detroit Senior All City team three times.
He was elected to the Detroit Bowling Hall of Fame in 2002.
In Michigan Majors competition he won three titles and was elected to their Hall of Fame in 1992.
As a PBA member, he won two National Senior titles, three Regional titles and three Regional Senior titles.
As a collegian, he bowled for Michigan State University, winning the College National Match Game Championship, three Big Ten Team titles, three Big Ten Singles Titles and Three Big Ten All-Events titles.
He has over fifty 300 games and twenty 800 series with a high of 864. This includes an 837 with triplicate 279 games in 1982. His high career average is 240.