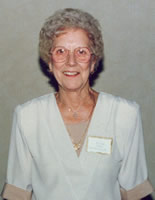 When Emma Stewart started bowling in 1935 she could not have known the path that black ball would take her. Her love of bowling and her desire to interest others prompted her to organize leagues which included the Kalamazoo Ladies All Star League in 1942.
During the years, Emma has conducted bowling schools and helped with the forming of leagues upon completion of the school. She organized and still directs the Junior Bowling Program at Airway Lanes which began in 1965. 
Elected Treasurer of the Michigan WBA in 1949, Emma has served in this position for 33 consecutive years during which time she has also served on numerous committees. 
Having helped her late husband, Riley Stewart, for several years with the Michigan Senior Bowling Tournament, it was only fitting that in 1974 she organized the Michigan Women's Senior Tournament and serves as Secretary-Treasurer. 
For many years Emma supervised a league for handicapped bowlers in Kalamazoo and later organized the Southwestern Michigan Handicap Association Tourney. 
Emma did not limit herself to organization and supervision. During her bowling career, she has captained teams which won two State Team Championships, fourteen City Team Champions and shared three Doubles titles. 
Emma has served the Kalamazoo Area Women's bowling Association as their President for 30 years and was inducted into the KAWBA Hall of Fame in 1968.