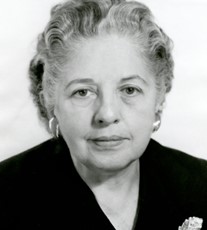 Louise Stockdale is the epitome of the reason behind the Pioneer designation in the Michigan State USBC Hall of Fame. The Pioneer is there for people like Louise who may have been inadvertently overlooked from the previous Halls of Fame. The former Michigan WBA did not start their Hall until 1976 and the former BA's Hall did not exist until 1995. Many accomplished and deserving individuals had finished their bowling careers before those start dates. Louise Stockdale is one of those individuals. 
Louise was born on January 17, 1895 and passed away on June 13, 1970. She may have moved to California but her bowling accolades were centered on the Detroit bowling scene of the 1920's thru the 1940's. The information that this induction is based on was collected by bowling historian, Eric Hartman of Niles, Michigan.
Her bowling accomplishments include:
Michigan State WBA Titles:
1931 All Events Champion, 1stplace Team
1932 Doubles Champion, 1stplace Team
1933 Singles Champion
1935 Singles Champion, Doubles Champions
1936 1stplace Team
WIBC Championship Titles:
1922 Doubles with her sister, Helen Sneider
1937 All Events Champion
     Inducted into the WIBC Hall of Fame in 1953 as a "Star of Yesterday" in the inaugural class
She also won many local titles in Detroit and was inducted into their Hall of Fame in 1958
We welcome the addition of Louise Stockdale in the Superior Performance category of the Michigan State USBC Hall of Fame.