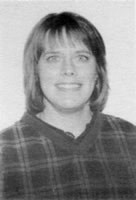 In order to be nominated for the Hall of Fame in the Superior Category, you have to be quite accomplished, which Lindy is, averaging in the 200 range the past few years, with 216 her highest. 
The perfect game has not eluded her, she has four 300 games to her credit, as well as numerous 700 series. Still in her prime, she may surpass her 781 series with an 800 one day soon. 
Participating in nine Michigan Queens Tournaments, Lindy won the Queen's title in 1992, averaging 213. And in 1996 was the Battle Creek Queen's Champion. 
Locally, Lindy was All Events Champion in 1997-98 with a score of 1838 and in 1992-93 rolling a total of 2029. She was also a Doubles Champion in 1997-98 and in 1994-95 and Actual Team Champion five times. 
She has been a Battle Creek All Star Team Captain and Woman Bowler of the Year since 1991.
We welcome Lindy Burton in the Superior Performance Category and know she will continue to have high scores and win more titles.